404 Page Design: Helpful Tips & Inspiring Examples of Error Messages
When users land on your 404 page, what do they see? Beyond the error message, a 404 page can be an engaging user experience. Think about it.
A 404 page is a landing page – even if it's one that a user didn't intend to land on. So, having a well-designed 404 page might make a difference when it comes to site conversions and preventing users from having a negative experience.
Let's be honest, 404 pages are annoying for most users and a beautiful error page isn't going to win over everyone. However, a 404 page is an opportunity to show off your brand's personality through dynamic web design. Not to mention that a 404 page can be used to redirect site visitors and encourage them to continue browsing.
A 404 error page doesn't have to be a bad thing if you apply a creative touch and smart branding. If you're wondering how to do that, you're in luck! In this article, we've curated 5 awesome examples of error pages to inspire you.
So, keep reading!
In the article:
Why Might a User Get a 404 Error Message?
Most people have experienced a 404 error message. But, why is that?
There are many reasons why site visitors might land on a 404 error page. Let's explore a few:
The user may have accessed a broken link
The user could have typed in an incorrect URL
The webpage may have moved but the site is not redirecting users
The webpage does not exist and may not have ever existed
The server is currently down
Simply put, when website visitors attempt to visit a page that cannot be found, they'll see an error message.
Why Should You Make a Visually Appealing 404 page?
A well-designed and useful 404 page shows users that you care about their experience with your brand.
When designed thoughtfully, user-friendly 404 pages can redirect users to the right place. And more importantly, an engaging error page can reinforce a positive user experience – which might quell any frustration caused by landing on the wrong page.
Need more reasons to create your own custom 404 page? Here are some:
A fun 404 error page can transform a user error into a user experience (UX) opportunity.
Engaging error messages encourage users to visit your site's homepage.
Using interactive graphics or an eye-catching image takes users' minds off of broken links and missing pages.
When used strategically, a 404 page can get potential customers into your sales funnel and possibly boost revenue.
5 Helpful Tips to Get Started on Your 404 Page Design
The internet is vast and it's nearly impossible to avoid 404 messages. So, embrace error pages! Here are a few tips to get started with your own:
Provide several links to redirect users to the most recent blog topics you've covered or other pages like your site's FAQ page or help center.
Add a search bar to your 404 page to encourage users to continue browsing and cut down on lost visitors.
Engage users and provide them with interesting content so that they still have a positive experience.
Add a call to action. Remember, 404 pages can be used to increase email subscribers, convert customers and so much more!
Design with your 404 page with your brand's users in mind. If your brand is playful, consider using puns or funny imagery. If your brand has a more minimalistic aesthetic, it's best to stick with something more toned down. In a nutshell, design in a way that makes sense for your brand and end-users.
5 Inspiring Examples of Error Pages
1. Pixar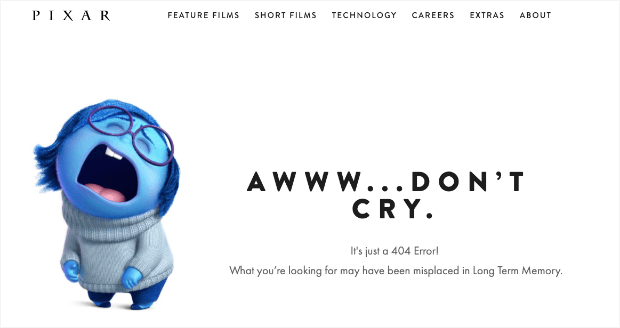 Why this 404 Page Design Works
While this error page doesn't utilize a navigational search bar to redirect users to the content they're searching for, it achieves something else. It makes site visitors smile! And, when it comes to branding, it makes sense for Pixar to go in this direction.

Using a character from their hit movie Inside Out, Pixar's 404 page can alleviate some of the frustration users may feel after landing on the wrong page.
2. Netflix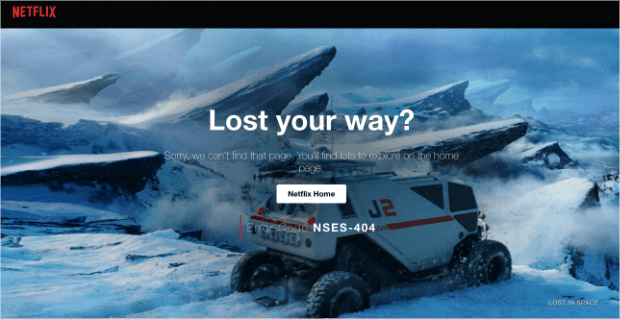 Why this 404 Page Design Works
Netflix uses its 404 page as an opportunity to redirect users to the site's home page in a fun, lighthearted way. The main takeaway from this 404 page example is the call to action button (CTA) in the middle of the page that reads: Netflix Home.
That simple CTA paired with an image from one of the films you can find in their movie database results in an engaging user experience that prompts users to ignore the broken link and continue browsing.

3. Hulu

Why this 404 Page Design Works
Hulu, a revival to previously-discussed Netflix, takes a different approach. Their 404 page exhibits a minimalistic design – one void of colors, graphics, or stills from popular shows.

There's only one button that simply states "okay" – which is Hulu's unique (and straightforward) way of encouraging users to accept that mistakes happen.
4. MailChimp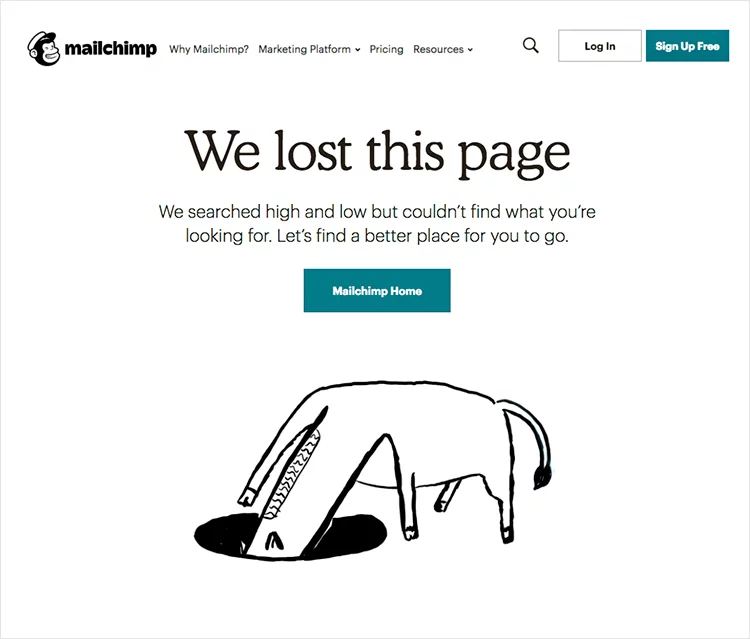 Why this 404 Page Design Works
When it comes to well-designed error messages that redirect users, Mailchimp is a good example.
Mailchimp's website is all about showcasing the brand's creativity and personality. As expected, its 404 page is on-brand as well – including witty copy and an illustration style that Mailchimp is known for.
5. Lego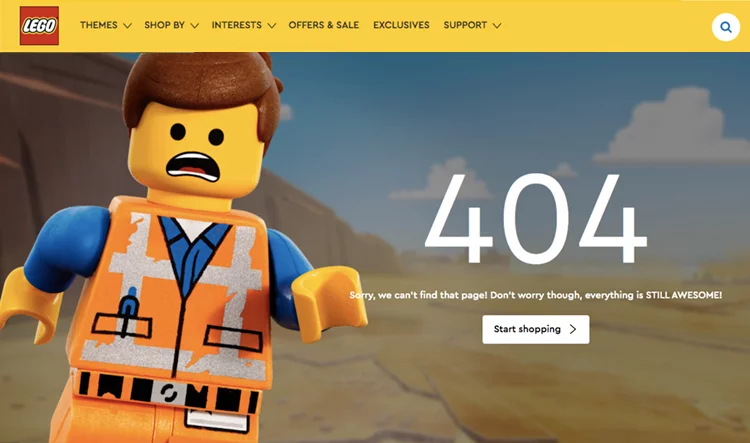 Why this 404 Page Design Works
If you're looking for an example of a fun 404 page that takes advantage of an opportunity to convert site visitors, look no further than Lego.

Using short but humorous copy, a call to action, and an eye-catching, on-brand image works because it turns user error into an opportunity to sell products and boost revenue.
Conclusion
Well-designed 404 pages have their place in the world and can make all the difference in creating a memorable user experience. When designing your own, keep your audience in mind!